Senior years come with various health-related issues, including joint pain, digestion, low energy, weakness, and muscle fatigue. As we age, our body's ability to heal itself slows down, leading to a higher risk of chronic illnesses. Ayurveda, an ancient Indian healing system, offers simple yet effective solutions to address these issues. Ayurvedic herbs and supplements have been used for centuries to enhance overall health and wellness, and can be particularly beneficial for seniors.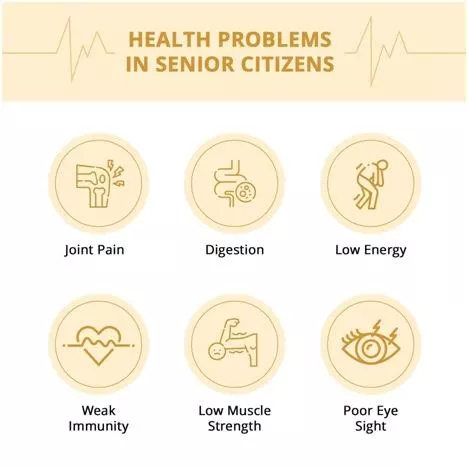 As we get older, the Allopathic solutions that we used in our 20s or 30s may not be effective as the requirements of the body changes with age and we need age specific solutions. Introducing Zandu SeniorZ, India's first Ayurvedic range specially developed by experts for seniors. This range offers high-quality Natural & 100% Ayurvedic ingredients that are free of added sugar or salt, making them safe and effective for people of all ages. Zandu SeniorZ provides a range of Ayurvedic supplements that are scientifically tested to support bones, joints and overall health.
With a legacy of over 100 years, Zandu is one of India's leading Ayurvedic brands and a one-stop solution for living a healthy lifestyle. I keep visiting https://zanducare.com website to find the right ayurvedic products for different needs and that's when I realized that Zandu has come up with Zandu SeniorZ' – India's 1st Ayurvedic Range specially curated for seniors' joint, bone and overall health, made by experts.
Here are the most essential Ayurvedic products specially made for seniors:
(1) Joint Care
Did you know? You lose upto 20% of functional abilities every 10 years. So, you need Zandu Seniorz Complete Joint Expert Tablet & Lepa, specially developed by experts for seniors' joints protection.
(a) Zandu SeniorZ Complete Joint Expert Tablet:
● It's time to take care of your joints with a scientifically tested Cartilage Protection Complex
● Enriched with potent Ayurvedic ingredients like Vetas (Willow Bark), Kunduru(Boswellia), Haridra and Sunthi that act on joint pain & inflammation
● Enhances mobility, strengthens joints, and relieves joint pain
(b) Zandu SeniorZ Complete Joint Expert Lepa: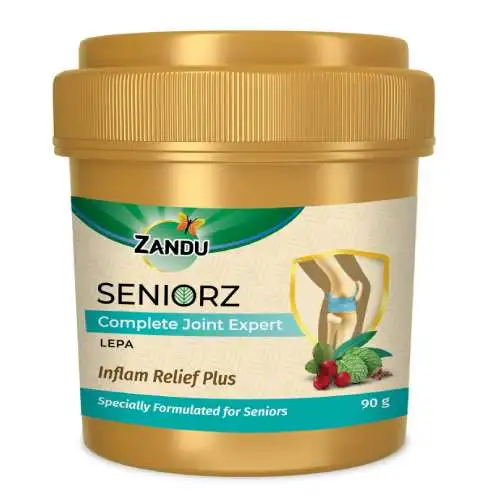 ● This Lepa With Inflam Relief Plus is scientifically proven to reduce muscle, nerve & joint pain.
● It contains natural ingredients like Sunthi, Clove oil, Eucalyptus oil, and oil of Wintergreen that help reduce joint pain.
(2) Bone Care & Pain Relief
Key fact alert! 2/5 elderly women & 1/3 of elderly men have osteoporosis. So you need Zandu SeniorZ Bone Strength Tablet & Pain Relief Oil, specially developed by experts for seniors to strengthen bones & relieve pain.
(a) Zandu SeniorZ Bone Strength Tablets: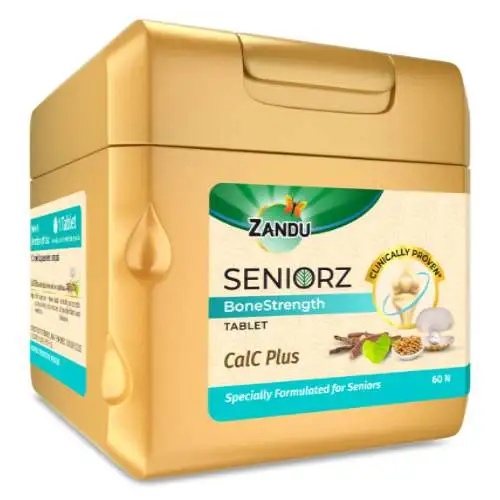 ● Boost Seniors' bone health with this scientifically tested CalC Plus
● Ayurvedic ingredients present in these tablets like Muktashakti, Hadjod & Jatiphal Rasa helps increase bone mineral density & provides Vitamin D3.
(b) Zandu SeniorZ Pain Relief Oil: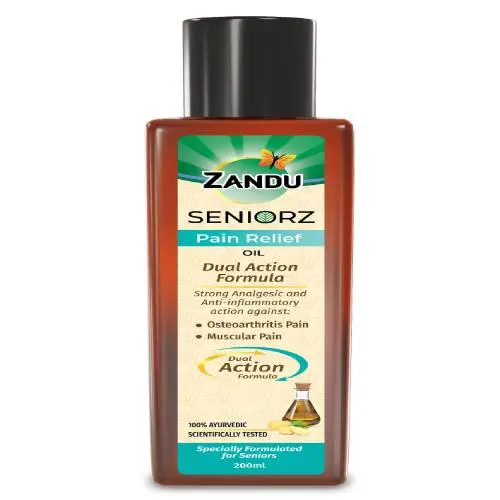 ● Comes with Dual Action Formula that has strong anti-inflammatory & analgesic properties, which can act on pain effectively.
● This Pain Relief Oil for joints is made with natural ingredients like Mahanarayan Oil, Mahamash Oil, and Sunthi Oleoresin that are scientifically tested to improve joint flexibility and reduce stiffness.
(3) Overall Health
Discover a compelling truth about your health that you might not be aware of. Muscle mass & bone mineral content reduces upto 30% after 60. So you need Zandu SeniorZ Health Booster Syrup, specially developed by experts for seniors.
(a) Zandu SeniorZ Health Booster Syrup:
● It is a scientifically tested formula with 7-in-1 benefits for seniors with 24 rich ingredients that supports energy, immunity, digestion, muscle strength, and cognitive, eye & skin health.
(b) Zandu SeniorZ Health Booster Granules:
● Boost energy, immunity, and digestion with this scientifically tested 3 in 1 formula.
● It contains natural & ayurvedic ingredients like Moong dal, Palak ,Brahmi, Triphala, Dadima, Gajar, Seb, Ashwagandha, Kadali that can boost your overall health every day.
Conclusion
Taking charge of your health is an essential step towards aging youthfully and enjoying your senior years. With the help of Zandu SeniorZ, you can ensure that your body receives the natural support it needs to maintain its strength, vitality, and overall wellness.
By choosing 100% Ayurvedic supplements like Zandu SeniorZ, made with natural ingredients, you can lead a healthy life in your senior years. Experience the benefits of Zandu SeniorZ on zanducare.com website . I recommend all seniors to try Zandu SeniorZ for aging youthfully.